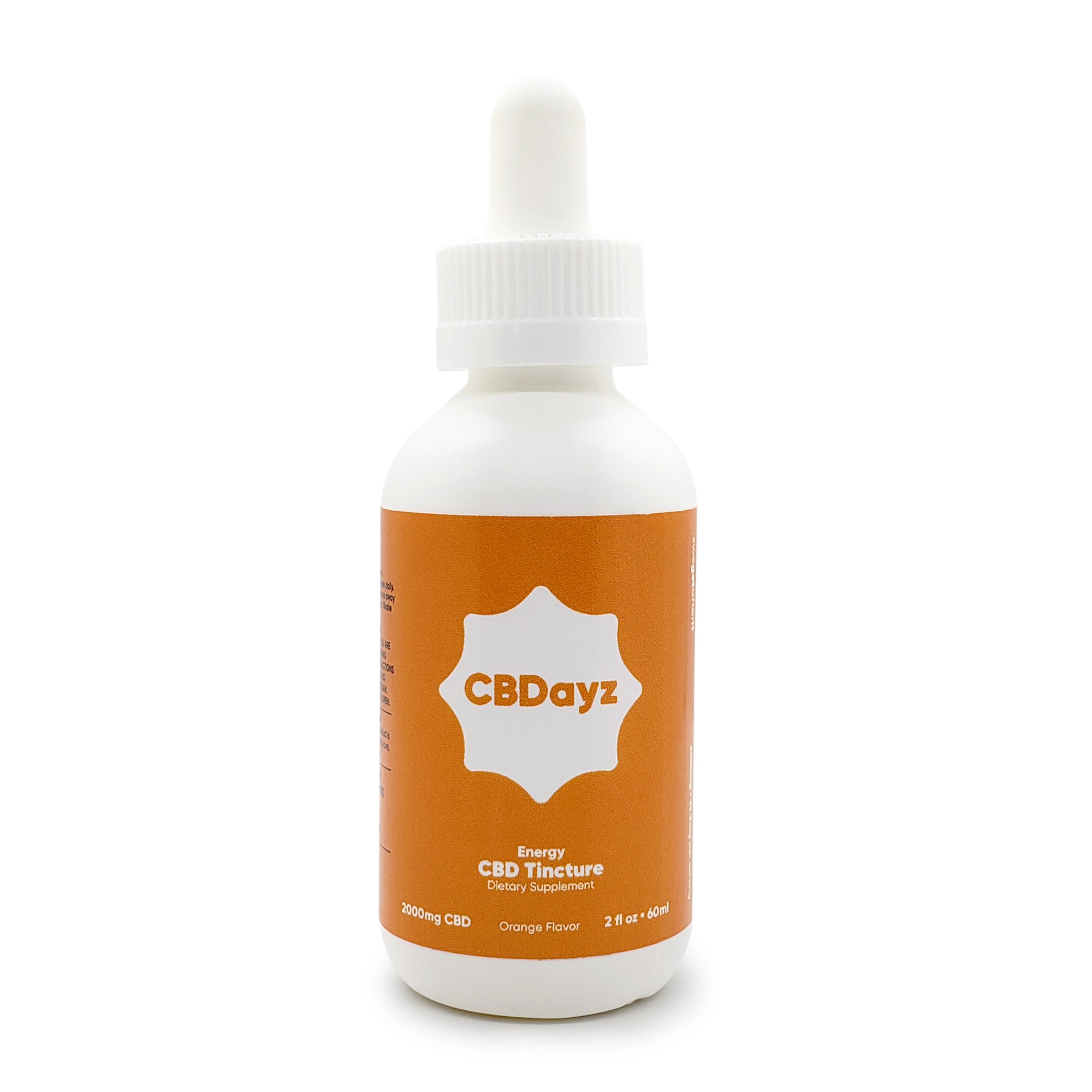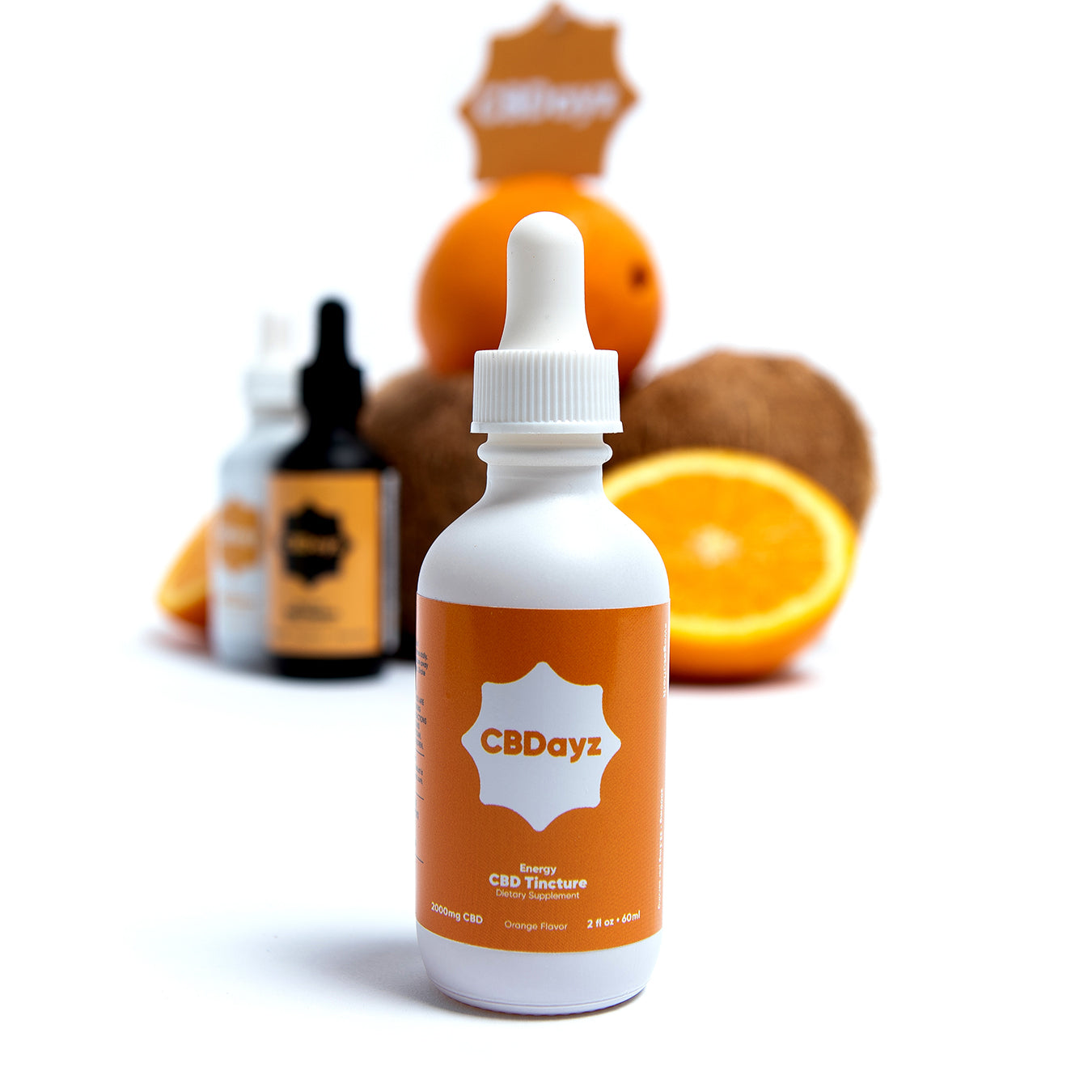 CBDayz Energy Tincture 2000mg
Our exclusive CBDayz Energy tincture is designed for daytime use before and during the action. Packed with 2000mg of CBD for 2 fl oz, we enhanced this tincture with Vitamin B12, commonly known for its energizing properties. Flavored with a hint of zesty tropical orange from naturally derived essential oils, the pleasure of consumption simply matches the benefits on this one.
Take sublingually with the 1ml marked dropper or enjoy in your favorite smoothie for optimal results. We use this tincture to stabilize our mood and energy levels. Our simple formulation is made with the best organic MCT oil available and delivers all of our CBD benefits. Heightened brain function and increased clarity of mind is all we are asking for when the risk of doing sports comes into play. With 66mg per dropper, this makes it a perfect alternative for experienced users who're looking for a high dosage of CBD without that annoying sleepy effect.
Vitamin B12 is an essential nutrient that helps the body create DNA. It nourishes the brain and nervous system, and assists with the formation of healthy red blood cells. This vitamin is a bit harder to find in natural food and this is probably why it's one of the most popular dietary supplements in the world. It is widely known for its ability to help you stay alert and feel energized. We blend it in a tincture mix that isn't too strong in CBD, so the sleepy side effect of ingesting too much CBD doesn't catch up on you. You should feel great and awake for a busy day outdoors. 
Certificate Of Analysis: CBDayz CBD Tincture 2000mg | CERTIFICATE OF ANALYSIS (COA)
USA Shipping
60-Day Refund Policy
FAQ & Contact Us
Full Disclaimer
USA Shipping
60-Day Refund Policy
FAQ & Contact Us
Full Disclaimer
CBDayz Energy Tincture 2000mg
Specification

 

CBD Content:

2000mg


Best For¹:

High dosage of CBD Isolate (Leaves and Flowers)
Broad spectrum phytocannabinoid-rich (PCR) CBD


Dimensions of Package:

6 x 3 x 3'

Weight of Package:

2 fl oz / 59.15g

Shelf Life:

2 years if stored correctly in a cool and dry place (60 to 70 degrees F) 

Serving Size:

A wee bit up to 1 dropper (1mL)


Servings Per Unit:

60 servings


Safety Directions:

Avoid contact with eyes. If contact occurs, rinse thoroughly with water.
If skin irritation occurs, discontinue use. May contain nuts

SKU:

CBZ-101

Estimated Shipping:

Standard (2 - 8 days)
Superstar Ingredients
2000mg High dosage of CBD Isolate (Leaves and Flowers), Organic MCT oil, Organic essential oil, Naturally derived organic orange essential oil, Vitamin B12 Contains Tree Nuts (Coconut)
We Give Back
87% organic ingredients, vegan, girlfriend/boyfriend approved and sustainably sourced. We love surfing in the ocean and snowboarding through trees too much not to care about the planet. We promise 1% of all profits to Give Back.
From Farm To You
CBDayz works closely with our farmers who grow the hemp, our scientists who create the products and our team of riders who test and use our product for quality control. We are present at each and every step of your CBDayz product creation.
Pro Athlete Feedback
We are a rider driven company, working with our own team of performance athletes in the fields of action sports. CBDayz owners are snowboarders, skaters and surfers too who get after it and need CBDayz products specifically for their own daily wellbeing and rider injuries.
HOW TO USE
CBDayz Energy Tincture 2000mg
Fill the dropper with the desired measurement, then squirt under the tongue and let it sit for 10 seconds to 1 minute before ingesting. 3...2...1...KAPOW!

We take our Energy Tincture once a day in our morning routine and during physical activities.

We recommend 0.25ml to start (or less if new to CBD), and moving towards your desired amount. Generally this ranges from 0.25ml to a 1ml dropper per day or as needed. Always monitor the full effects and duration of a small dosage before considering a higher dosage.


THE CBDAYZ DIFFERENCE
Why CBDayz?
THC Free* Product:


We test all our CBDayz products to guarantee top quality CBD and to ensure that there are non-detectable THC levels in all our products. *The asterix makes it sound all mysterious and sh#t. THC-free is defined as undetectable at the lowest level (below 0.03%), which can be consistently detected using valid scientific analytical tools.

USA Hemp Extracts:


From plant cultivation to final production; all extracts come from hemp grown right here in the USA.


Superior Broad Spectrum:


Our unique process and extra care in creation ensures that valuable cannabinoids (CBD, CBN, CBG) and terpenes are preserved.


Customer Service Like We're Buddies:


Our knowledgeable customer service team is based right here in the USA and ready to answer any questions you have. More often than not you'll call a fellow snowboarder, skater, surfer or someone managing an injury so you'll have plenty to chin wage about whilst we help you with your needs. We're here for you and we pride ourselves on stoking our customers out!


Our Story Of How CBDayz Was Formed:


We personally needed CBD for our own rider related injuries and chronic pains. Because of a need to find a more natural solution to managing the lifestyle and battle scars of action sports instead of more pills, pills... pillzzz... We set out on the journey to Get After It, finding a niche in offering more transparency and tested product research and development. For a bit of fun, we we set out on a journey of (self) discovery, working with select farmers and scientists to see the whole CBD process from farm to you. We wanted to witness the quality and ensure we knew what was in our CBD products as we also wanted to share them with our friends and family, to potentially aid with their own health and wellness regime. As the family of supporters grew into a community of followers,

boom chicka wowow

, CBDayz was now getting after it!

CREATED FOR SNOWBOARDERS, SKATERS & SURFERS
Rider Driven.
Rider Tested.
Rider Focussed.
We work with our select crew of farmers, athletes and scientists to make transparent and quality CBD products for athletes.

We make CBDayz for the big bails, the pow days, the park days and the mellow days. We make our products for the big swells and new skate tricks, the deep sleeps and the sunny dayz! We make our products for you, me and our friends and family.

CBD Energy Tincture Frequently Asked Questions (FAQ)
USA Wide Shipping
We're all about convenience and making deliveries affordable. We deliver across the USA.
Our Guarantee
We just want stoked customers. We're so confident in our products and service, we offer a 60 day money-back guarantee.
Support 24/7
We're building a community and that revolves around us delivering on what we say we are. We're here for you anytime.
LET'S BE FRIENDS
Did You Know? CBD's effects are enhanced by other cannabinoids.
While CBD in and of itself has several purported benefits, it works best in conjunction with the many other cannabinoids present in cannabis. This concept is known as the entourage effect and is the reasoning behind the popularity of full-spectrum CBD oil over most other CBD products.