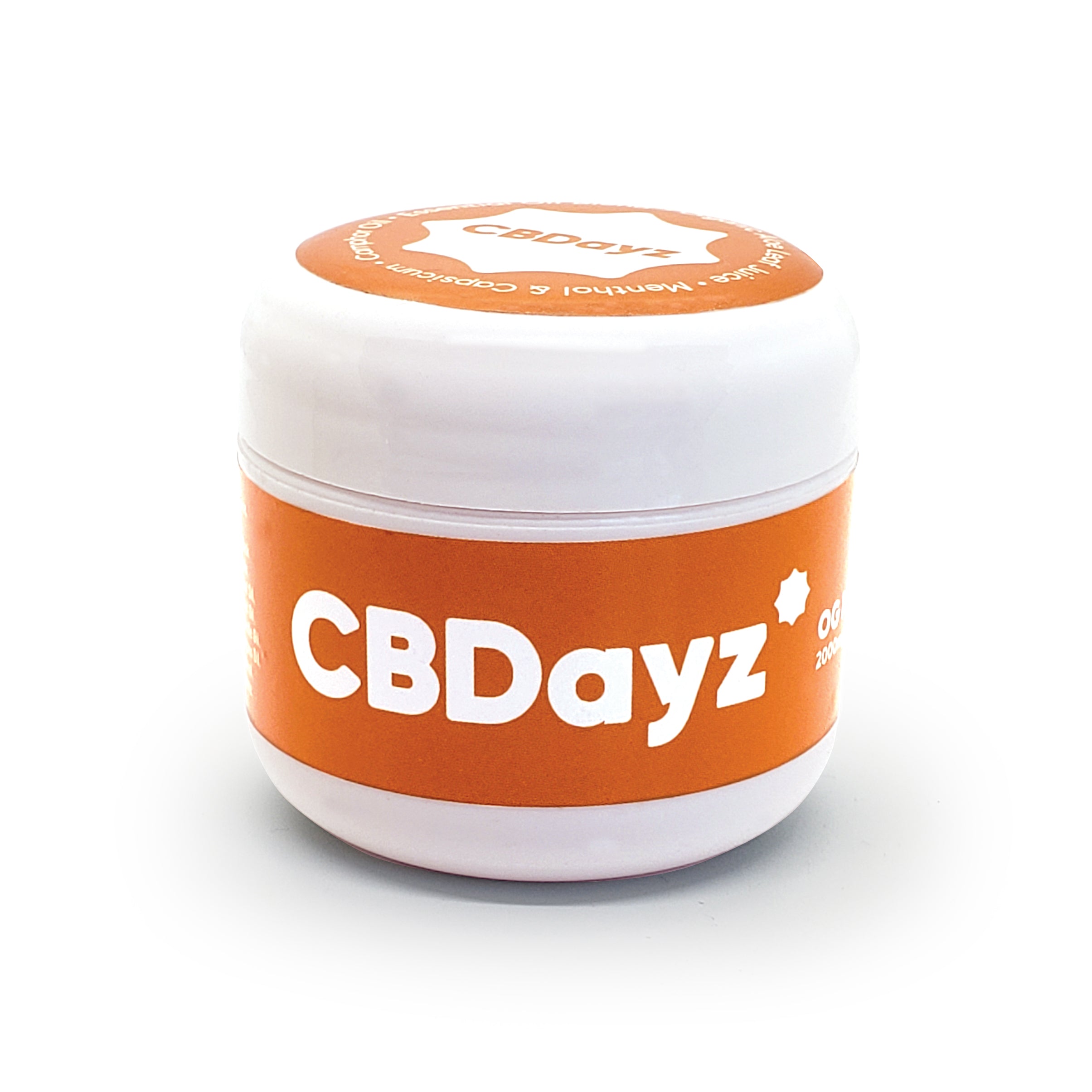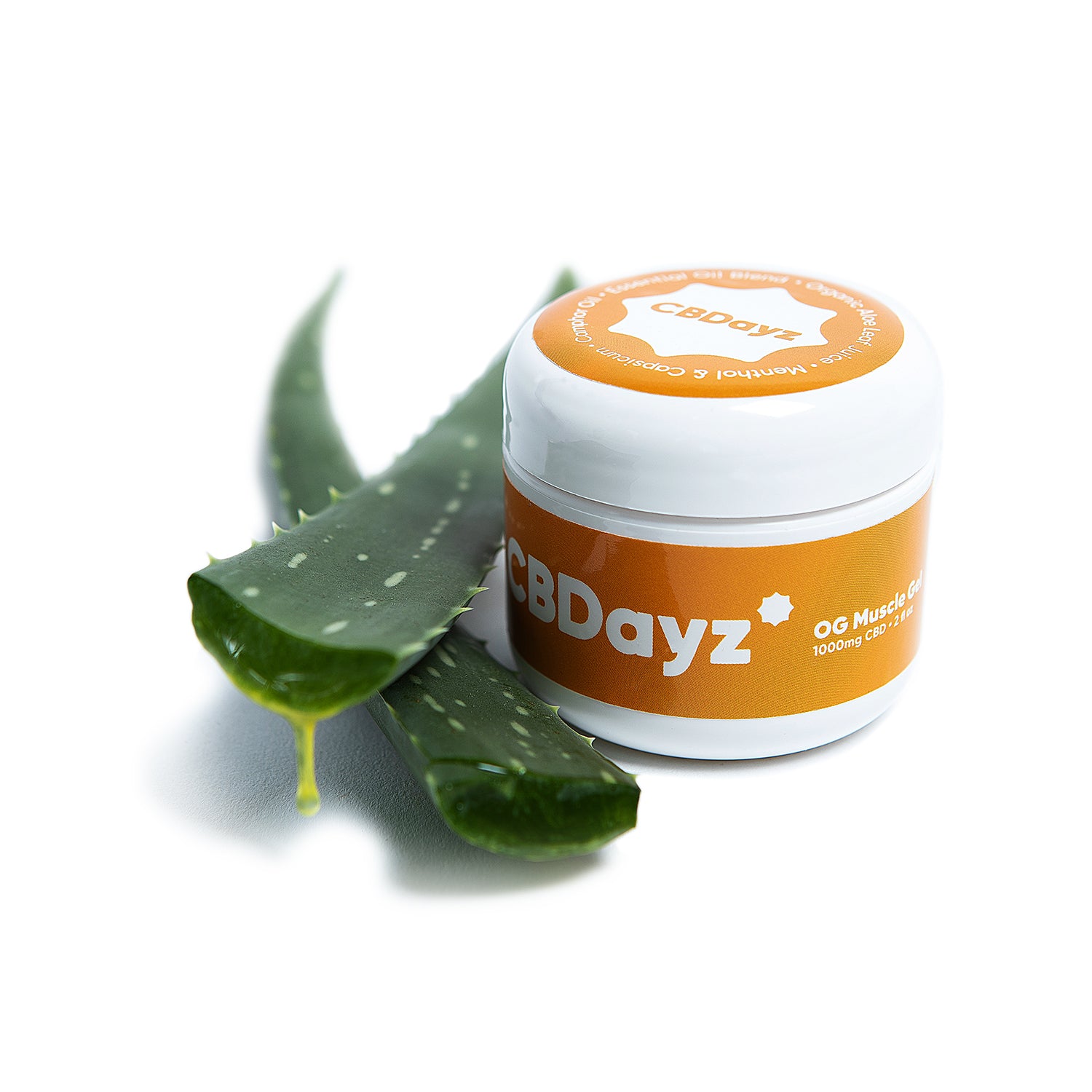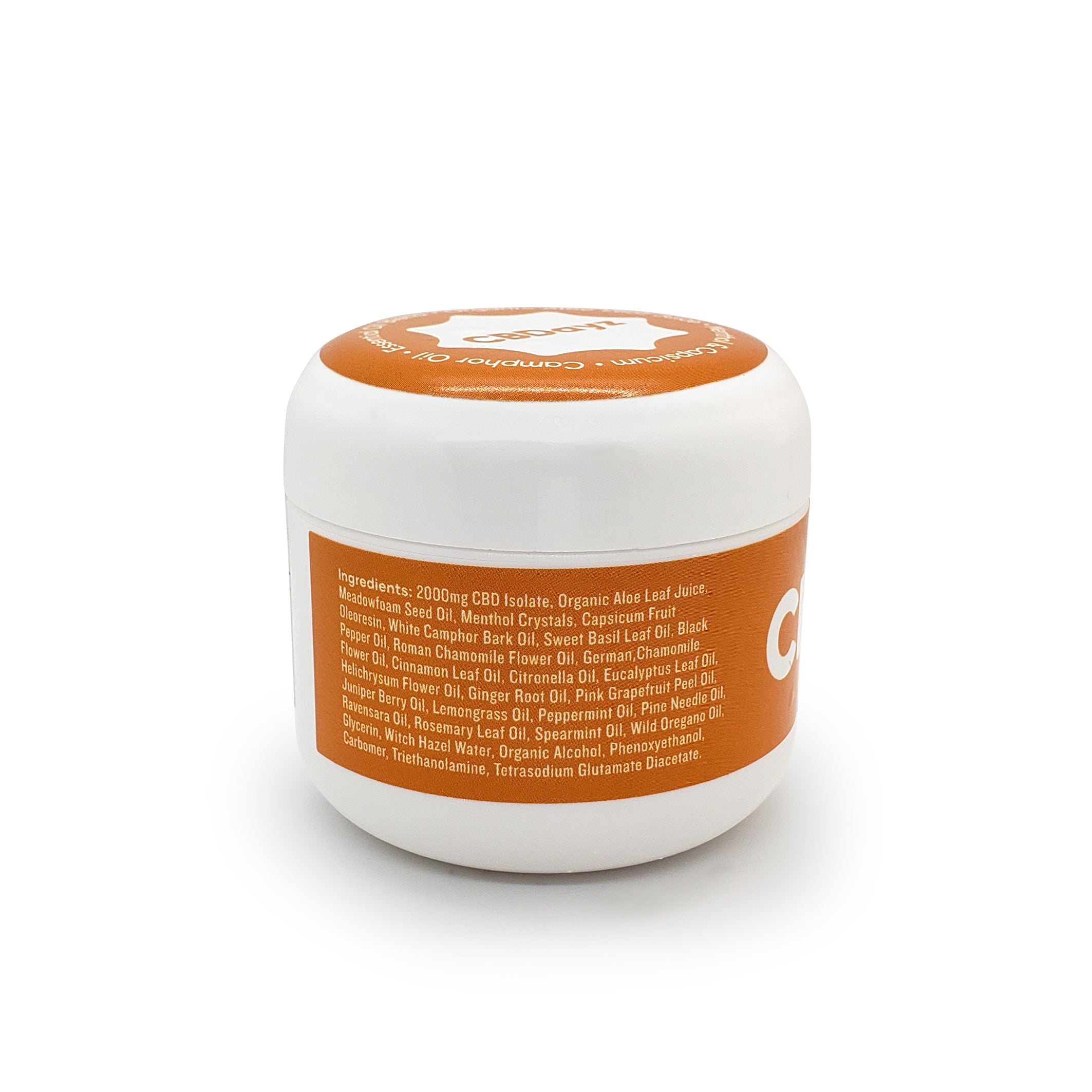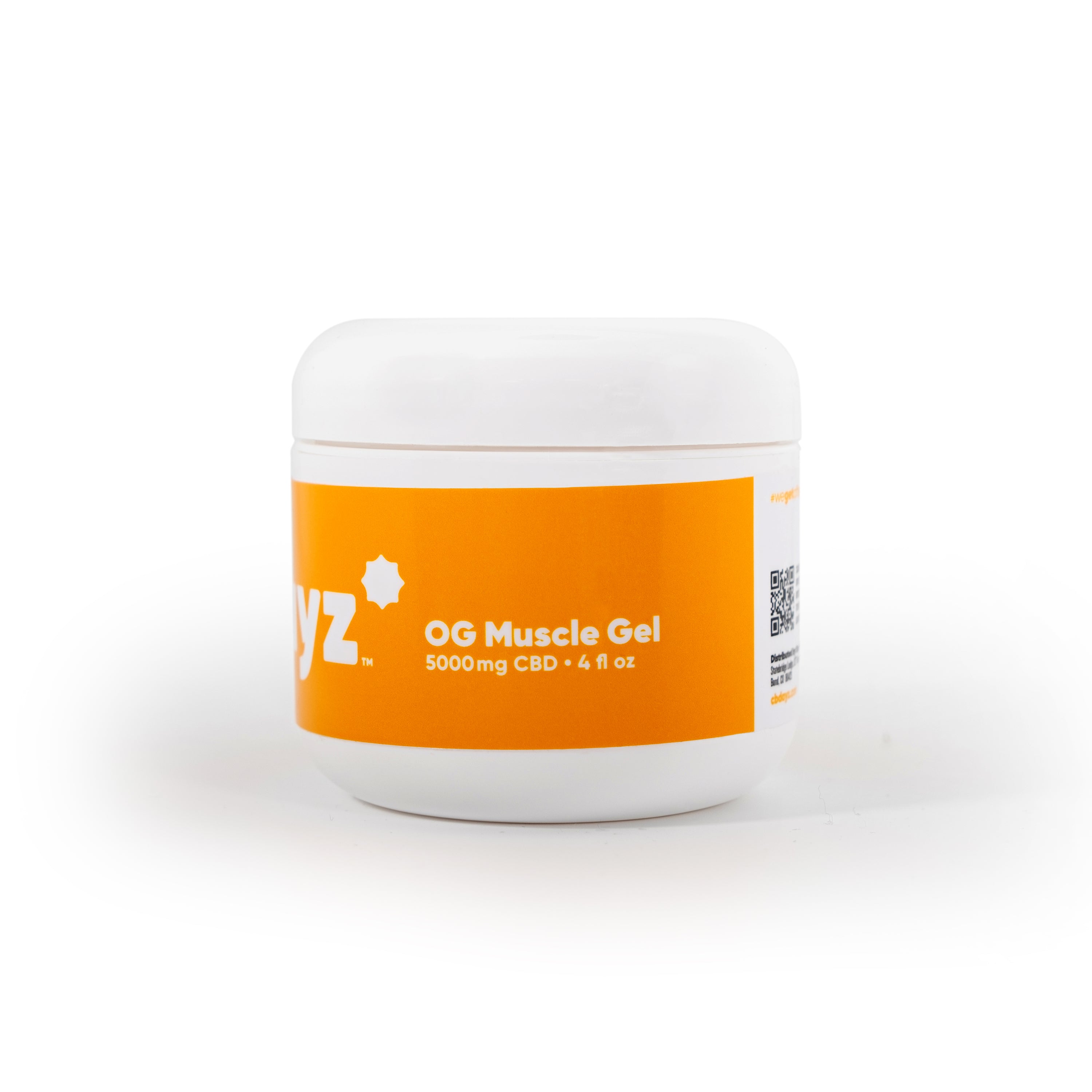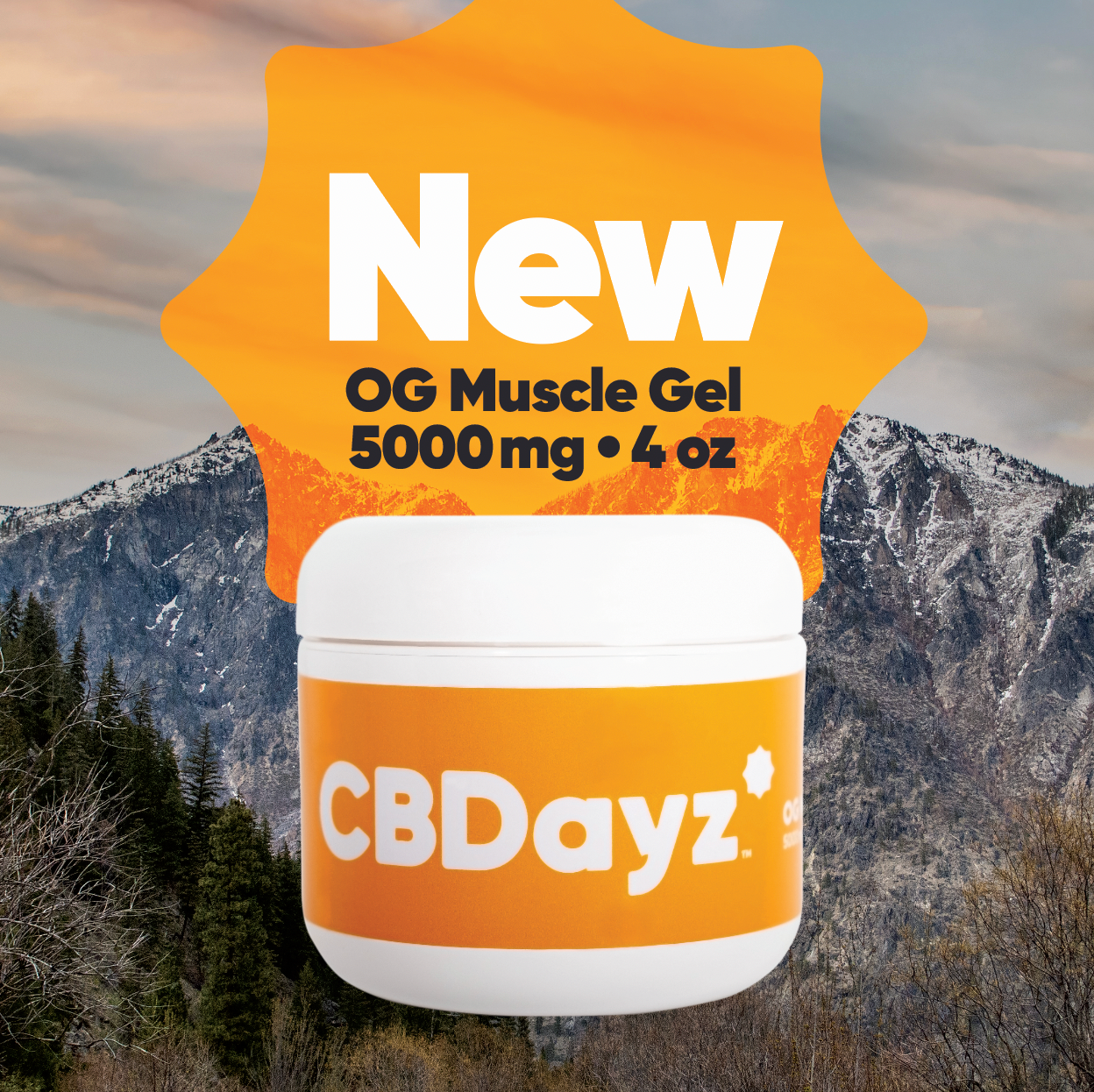 This is the staple product of CBDayz's brand. The OG Muscle Gel is precisely the reason why we started the company.
To soothe and accelerate healing of rider-induced injuries after long days of riding. We have found topical formulas to have the best effect and through revisions, we've succeeded in perfecting our formula. We dedicated a lot of time and energy in developing our own formula and we couldn't be prouder of the ingredient list and the consistent positive feedback we receive. even before actually bringing it to market.
Our exclusive blends of all natural and organic oils simply deliver perfection. Most get seduced by the texture, the icy-hot feeling, the quick absorption, the spa-moment you'll get from smelling the gel simply the moisturizing and soothing effect of the cream on your skin. All that makes it a great product but the true reason we use it so much is because of our experience with inflammation and sport injuries. It just feels great each time and seems to reduce the recovery time.
Initially offered in 500mg, 1000mg and 2000mg 2 oz format, we have recently created a bigger and bolder 5000mg 4 oz jar which offers more CBD and should last longer. For those familiar with the OG, this one was made for you. We suggest using the gel for larger muscle areas such as your back, neck, knees, elbows, legs, chest, ankles and shoulders. 
Certificate Of Analysis: 
USA Shipping
60-Day Refund Policy
FAQ & Contact Us
Full Disclaimer
USA Shipping
60-Day Refund Policy
FAQ & Contact Us
Full Disclaimer
CBDayz OG CBD Muscle Gel
Specification

 

CBD Content:

2000mg or 1000mg


(please select quantity before adding to cart) 

Best For¹:

Massaging the gel into muscles and joints. The reason why our OG muscle gel is the most popular amongst our team of athletes is because it has a very strong CBD content (1000mg or 2000mg per 2 fl oz) and its texture and format allows for generous application and massage into  larger muscle areas (back, legs, arms etc). Lather it like sunscreen if you must


Dimensions of Package:

4 x 3 x 3'

Weight of Package:

114g

Shelf Life:

2 years if stored correctly in a warm and dry place

Servings Size

Serving size varies

Servings Per Unit:

Serving size varies


Safety Directions:

Avoid contact with eyes. If contact occurs, rinse thoroughly with water. 
If skin irritation occurs, discontinue use. May contain nuts


SKU:

CBZ-203 (2000mg) & CBZ-203-B (1000mg)


Estimated Shipping:

Standard (2 - 8 days)

Superstar Ingredients
In 1000mg and 2000mg CBD options, our potent blend of CBD products is also packed full of superstar extra ingredients such as Camphor oil, Menthol, Capsicum, Muscle essential oil blend and Organic aloe vera leaf juice.
We Give Back
87% organic ingredients, vegan, girlfriend/boyfriend approved and sustainably sourced. We love surfing in the ocean and snowboarding through trees too much not to care about the planet. We promise 1% of all profits to Give Back.
From Farm To You
CBDayz works closely with our farmers who grow the hemp, our scientists who create the products and our team of riders who test and use our product for quality control. We are present at each and every step of your CBDayz product creation.
Pro Athlete Feedback
We are a rider driven company, working with our own team of performance athletes in the fields of action sports. CBDayz owners are snowboarders, skaters and surfers too who get after it and need CBDayz products specifically for their own daily wellbeing and rider injuries.
HOW TO USE
The OG Muscle Gel
Generously apply to the affected area for quick absorption. Strong and effective with an icy-hot sensation. The more you put on of this stuff, the more results you can expect to see. As much as 4-5 times a day to ensure best results.

Some say the CBD muscle gel feels like soothing your sore muscles in a hot tub whilst your favourite instagram models massage your aches and pains away.

We just think that after two years of testing this product on extreme sports athletes with them sharing amazing results, it's now ready for your opinion. What do you think of it?
THE CBDAYZ DIFFERENCE
Why CBDayz?
THC Free* Product:


We test all our CBDayz products to guarantee top quality CBD and to ensure that there are non-detectable THC levels in all our products. *THC-free is defined as undetectable at the lowest level, which can be consistently detected using valid scientific analytical tools.

USA Hemp Extracts:


From plant cultivation to final production; all extracts come from hemp grown right here in the USA.


Superior Broad Spectrum:


Our unique process and extra care in creation ensures that valuable cannabinoids (CBD, CBN, CBG) and terpenes are preserved.


Customer Service Like We're Buddies:


Our knowledgeable customer service team is based right here in the USA and ready to answer any questions you have. More often than not you'll call a fellow snowboarder, skater, surfer or someone managing an injury so you'll have plenty to chin wage about whilst we help you with your needs. We're here for you and we pride ourselves on stoking our customers out!

Our Story Of How CBDayz was formed:


We personally needed CBD for our own rider related injuries and chronic pains. We needed to find natural solutions to managing the side effects of living an action packed lifestyle and nurturing the battle scars of extreme sports. We didn't want more pills, pills... pillzzz..
For a bit of fun, we set out on a journey of (self) discovery, working with select farmers and scientists to see the whole CBD process from to ensure we knew what went into each bottle. We wanted to witness the quality and ensure when we share our CBD with our friends and family to potentially aid with their own health and wellness regime, we could wholeheartedly support our product. We now provide the most transparent and highest quality CBD on the market. As the family of supporters grew into a community of followers,

boom chicka wowow

, CBDayz was born. We get after it!
CREATED FOR ATHLETES
Rider Driven.
Rider Tested.
Rider Focussed.
We have scientists in lab coats and our owners wear wet-suits, skate shoes and beanies at our 4.20 meetings, but we need our CBD for our own rider related injuries so that's why we made it. It just got so damn good we thought we'd get after it in the CBD community! We originally made our products for our own injuries and chronic pain. They just got so good we wanted to share them with friends, family and other riders. This is how CBDayz was born.

We work with our scientists to make these products for the big bails, the pow days, the park days and the mellow days. We make our products for the big swells and the sunny dayz. We make our products for you, me and our friends and family.
OG Muscle Gel Frequently Asked Questions (FAQ)
USA Wide Shipping
We're all about convenience and making deliveries affordable. We deliver across the USA.
Our Guarantee
We just want stoked customers. We're so confident in our products and service, we offer a 60 day money-back guarantee.
Support 24/7
We're building a community and that revolves around us delivering on what we say we are. We're here for you anytime.
LET'S BE FRIENDS
Did You Know? Whilst evidence of cannabis consumption by humans dates back thousands of years, CBD was first isolated in 1940 by chemist Roger Adams. CBD's chemical structure wasn't clearly defined until it was first synthesised in 1963 by Raphael Mechoulam.